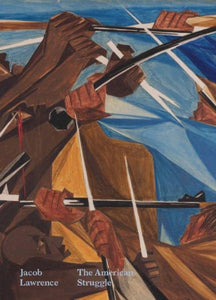 Jacob Lawrence: American Struggle
This publication sets the precedent for the next generation of Lawrence scholars and studies in modern and contemporary discourse. The American Struggle explores Jacob Lawrence's radical way of transforming history into art by looking at his thirty panel series of paintings, Struggle . . . from the History of the American People (1954–56). Essays by Steven Locke, Elizabeth Hutton Turner, Austen Barron Bailly, and Lydia Gordon, as well as a preface by Seattle artist Barbara Earl Thomas, mark the historic reunion of this series―seen together in this exhibition for the first time since 1958.
The American Struggle reexamines Lawrence's lost narrative and its power for twenty-first century audiences by including contemporary art and artists. Derrick Adams, Bethany Collins, and Hank Willis Thomas invite us to reconsider history through themes of struggle in ways that resonate with Lawrence's artistic invention. Statements by these artists amplify how they and Lawrence view history not as distant period of the past, but as an active imaginative space that is continuously questioned in the present tense and for future audiences.
This exhibition will be ON VIEW at SAM Downtown, March 5, 2021 – May 23, 2021
Hardcover:  192 pages
Publisher:  University of Washington Press; Illustrated edition (November 15, 2019)
ISBN-13:  9780295747040
Product Dimensions:  9.2 x 0.8 x 12.6 inches
---
Share this Product
---
More from this collection