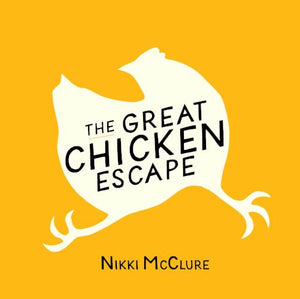 The Great Chicken Escape
This simple and spare picture book about four chickens fleeing their coop for the day in the Alaska wild features Nikki McClure's signature cut-paper artwork and a visually pleasing die-cut cover.
The story emerged from the author's own experience on Spruce Island, Alaska. In June of 1998 Nikki lived there with a small group of monastics, where she helped gather food and tend to chickens. Nikki says, "This is a true story, or as close to truth as I could ascertain from the chickens themselves. One day, the chickens snuck out the back door of the coop. Some of the more timid were caught, but a rogue group successfully eluded the nuns. The nuns decided that there was no real danger, only the possibility of a great chicken adventure. They let the chickens roam, enjoying the freedom of the forest. There was no worry, for the chickens would return home to roost; after all, they are chickens."
Nikki McClure is a well-known cut-paper artist and the author of several children's books, including Abrams's Waiting for High Tide, In, Collect Raindrops, and May the Stars Drip Down. She lives in Olympia, Washington, with her family.
Age Range: 4-8 years
Hardcover: 40 pages
Publisher: Cameron Kids (May 1, 2018)
ISBN-13: 9781944903220
Dimensions: 8.2 x 0.5 x 8.2 inches
---
Share this Product
---
More from this collection