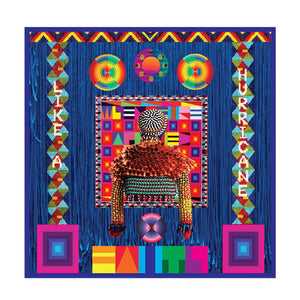 FAITH Sticker Sheet - Jeffrey Gibson
Artist Jeffrey Gibson is captivated by a kind of secular but magical faith shared by artists, craftsmen & makers of all kinds. To create something requires conviction in an unrealized vision and trust in the process.

Jeffrey Gibson is of Cherokee heritage and a citizen of the Mississippi Band of Choctaw Indians. He grew up in urban settings in Germany, South Korea, the United States, and England, and his work draws on his experiences in different cultural environments. In his artwork, materials used in Indigenous powwow regalia, such as glass beads, drums, trade blankets, and metal jingles, are twined together with aspects of queer club culture as well as the legacies of abstract painting.
Gibson's complex work reflects varied influences, including fashion and design, abstract painting, queer identity, popular music, and the materials and aesthetics of Native American cultures.
FAITH sheet is from a limited-edition run of 400 and is numbered.  Single square sticker sheet with eight stickers.
Materials:  Quality stickers by Apply Stickers

Dimensions: 7 x 7 inch square sheet

---
Share this Product
---
More from this collection