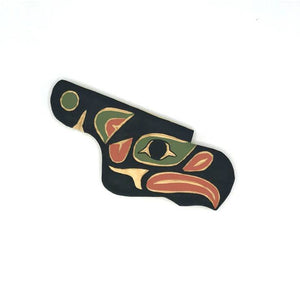 Thunderbird Plaque
This hand-carved plaque is a unique artwork.  Made in Washington State by Firewoman Studio, Tsalagi/Salish.
Crafted in basswood, hand-painted with small suede/leather hanger on back.
Firewoman Studio is a small local Native Works studio that produces hand-carved works of art in Northwest Native Style and Design led by artist Sasa.  Throughout Sasa's prolific career, her work has been featured on television (MTV's Real World – Seattle, Northern Exposure), in local venues (Ivar's Salmon House, Snoqualmie Falls Library) and also with the Smithsonian Institute.  She has worked with the New York National Minority Business Council, and, in addition, has served on the Board of the Native American Chamber of Commerce.  Her own two children are also Native Artists who work with her.
Thunderbird available online (more available in-store)
This item is handmade and may have slight variations.
Materials: Painted basswood, suede hanger
Dimensions: 9 x 4.75 x 0.75 inches approx. (some variation with each)
---
Share this Product
---
More from this collection