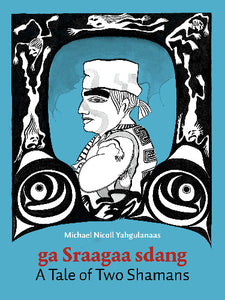 A Tale of Two Shamans
"The work that you are about to read is old, much older than any of us still living. It is probably older than anything one could even call Canadian. It precedes us all." - A Tale of Two Shamans

This story is a blend of accounts recorded at the turn of the nineteenth century in three of the once numerous dialects of the Haida language. The author has combined elements from these accounts into a newly constructed whole and cautions the reader that these images are interpretations informed by his own cultural composition and life experiences.
Step into the dynamic living society of indigenous peoples called Haida with Michael Yahgulanaas's dramatic retelling of an ancient story, with parallel texts in the Old Massett, Skidegate and Kaigani (Alaskan) dialects of Xaayda Kil/Xaad Kil/Xaad Kíl, the Haida Language.
Michael Nicholl Yahgulanaas is a visual artist, storyteller and public speaker.  Raised on Haida Gwaii, he melds cultural hybridity and his political experiences as an Indigenous person with contemporary graphic literature to produce a unique genre called Haida Manga.  He lives in Canada with his wife and daughter, close to the Two Sisters Mountain on an island in the Salish Sea.
Hardcover: 72 pages
Publisher: Locamo Press; Multilingual edition (May 2019)
ISBN: 9780995994683
Product Dimensions: 12.5 x 9.25 x 0.5 inches
---
Share this Product
---
More from this collection