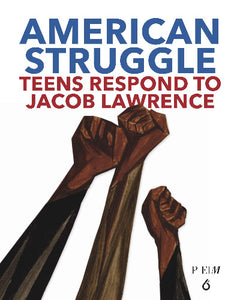 American Struggle: Teens Respond to Jacob Lawrence
Jacob Lawrence (1917-2000) was one of the greatest narrative painters in American art history, and perhaps the most important African American artist of the twentieth century.  He developed a series of thirty panels over the course of two years, each measuring 12 × 16 inches, depicting signal moments in the American Revolution and the early decades of the American republic, as well as featuring the words and actions of founding fathers, enslaved people, women, and Native Americans. 
In the spirit of Lawrence's project, this collection includes brief interpretive texts written by teens in response to the Struggle series. This illustrated book features a chorus of thirty singular young adult voices expressing how Lawrence and his Struggle series speaks to them on a personal, emotional level.

One youth voice coming from Seattle is that of Lucia Santos, a member of SAM's Teen Art Group since 2018.  Lucia has been a curator of a youth-focused exhibition in our SAM Community Gallery, an illustrator for Rookie Magazine, as well as a guide for SAM public tours.  She values the community deeply, as well as connecting with the environment and natural world.  Lucia is a senior at the Center School and is a native to Seattle's Seward Park/Rainier Beach neighborhood.
Featuring contributions from Seattle artist Barbara Earl Thomas, an award-winning writer and visual artist with a career spanning more than 30 years. In addition to locally based awards and accolades, her work has been widely featured nationally in galleries and museums, including The Savannah Contemporary Art Museum, the Seattle and Tacoma Art Museums, the Meadows Museum in Shreveport, Louisiana, the Evansville Museum of Art and Technology in Indiana and The Bainbridge Island Art Museum. She has published essays on travel, nature, and contemporary arts and culture, as well as monographs on artists such as Gwendolyn Knight Lawrence, Joe Fedderson, Cappy Thompson, Alan Rohan Crite, and Julie Speidel. She lives in Seattle, Washington.
Hardcover:  200 pages
Publisher:  Six Foot Press (January 2020)
ISBN-13:  9781644420218
Product Dimensions:  8.3 x 0.6 x 10 inches
---
Share this Product
---
More from this collection