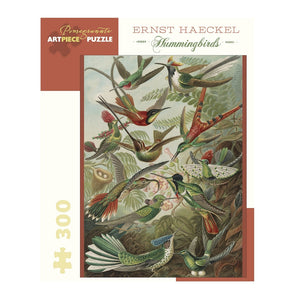 Hummingbirds Puzzle
Trochilidae – Kolibris, from Kunstformen der Natur (Leipzig and Vienna: Bibliographisches Institut, 1904), plate 99, Ernst Haeckel, 300 piece jigsaw puzzle

When German biologist Ernst Haeckel published Art Forms in Nature, it encapsulated his response to Charles Darwin's On the Origin of Species. But Haeckel also clearly saw his illustrations as more than just scientific documentation. His elaborate forms have been called a precursor to art nouveau, and his influence even stretched to architecture. Haeckel's work is preserved in the Library of Congress, the world's largest library, holding more than 162 million items.
Combines detailed color reproduction, stunning and unusual images, and sturdy construction to delight generations of novice and veteran puzzle workers.
Ages 3 and up (due to small parts)
Materials: Coated cardboard
Dimensions: 18 x 24 inches (assembled puzzle)
---
Share this Product
---
More from this collection